Car Finance for Your Used Subaru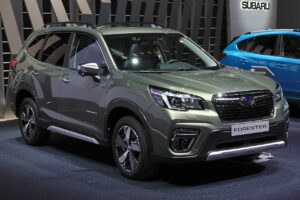 There are many reasons for falling in love with a Subaru. They're quirky. They're reliable to a fault. And they're great for the environment.
If you need car finance for a used Subaru, we're more than happy to assist. Thanks to many years of experience we can offer tailor-made loans even for those with bad credit.
Which used Subaru models do you have?
Glad you asked. At iFinance, we love the brand and will usually have at least a few models available at all time. If you can't find them on our homepage, don't hesitate to give us a call. Although we update our digital showroom daily, there are always a few more cars on our lot which you won't find online.
In general, our customers are most interested in car finance for the following used Subaru models:
Subaru Forester: Not one of the most fashionable SUVs. But definitely one of the most practical ones!
Subaru Impreza: Subaru's legendary build quality is confirmed by the Impreza's equally legendary low depreciation rate.
Subaru Outback: The car that cemented Subaru's reputation. Still going strong.
I want one! How does it work?
You'd like car finance for a used Subaru? We can relate. And we'll do anything to make it happen.
Everything starts by browsing our website for current deals. We also run a Facebook page where we'll occasionally post offers. If you live in Glasgow or nearby, you're of course always welcome to drop by our Paisley showroom to check our selection in person.
If you spot one or more Subarus you like, give us a call. We'll go through a few questions with you and work out how much you can afford. If everything looks okay – which it usually does – you can pick the car that's right for you and drive it home.
But … I have a bad credit rating!
Subarus aren't cheap, even used ones. So how can we offer finance for them even to those with debt, a problematic finance history and a low income?
Very simple: By focusing on what's possible, rather than impossible. We don't set an interest rate according to computer calculations. We won't insist you pay back the loan within 4 years, if that simply won't work. Instead, we look at what you can truly achieve.
If you need a little longer to pay the loan for your used Subaru back, that's fine.
If you can't afford a deposit, we'll try to make it work.
Should monthly payments need to be a little lower, that's not a problem either.
Also note, that applying with us will not affect your credit rating.
How expensive is car finance for a used Subaru?
Our rates will probably be a bit higher than with a bank or credit union. But in return, chances of a default are a lot lower. And although we can never 100% guarantee a positive response, your chances of success are very high.
That's why we get customers from all over Scotland looking for used Subaru car finance.
Give us a call at our phone number 0141 848 7733 and we'll start making your dream come true.
[Image Credit: https://commons.wikimedia.org/wiki/User:Alexander-93]